SOLAR SYSTEMS ON apartment bUildings
If you are interested in designing a solar system, please fill out this form:
HOW CAN YOU USE SOLAR COLLECTORS?
Solar collectors are mainly used for the preparation of hot water in dwelling houses. In the case of family houses, we can also use them to support heating or pool heating, but in dweling houses due to various limitations (natural and physical laws, space options,…) we usually use them only for preparation.
The solar system can be dimensioned from different points of view and depends on many factors and limitations. The following model example shows that doubling the number of collectors does not automatically equal the doubling of solar gains, and therefore savings. As different dwelling houses have different construction and technical parameters, it is not possible to apply the calculations universally. We do an individual calculation for each dwelling house.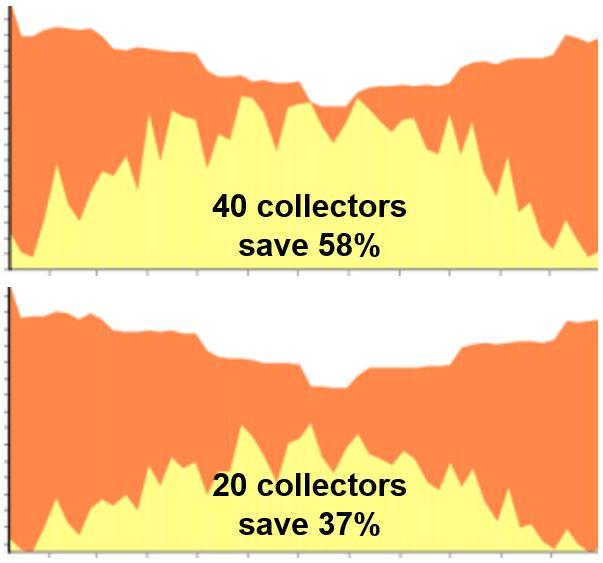 In principle, however, we can say that it is worthwhile to install a smaller solar system, which will provide only preheating of water throughout the year (limited funding, subsidy policy, limited space for collectors,…). A smaller solar system can also be prepared for possible future expansion (this applies, for example, to pipe sizing).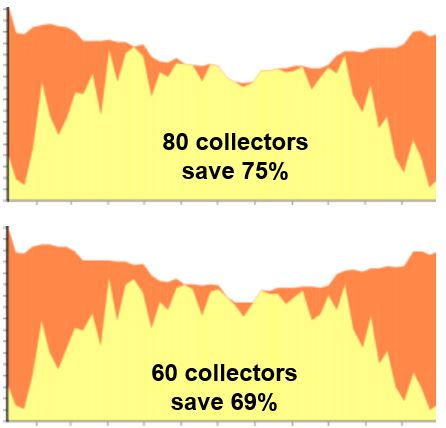 As the number of collectors increases, the percentage of solar energy coverage increases, but the energy gain from one collector decreases (kWh / m2 per year). Economically meaningful coverage of drinking water heating by means of a solar system in an dwelling house is a maximum of 50-60%. In the given model example, this would mean a solar system with 40-60 collectors, but the number of collectors may vary depending on the construction and technical parameters of the dwelling house and the mode of operation. For example, the solar system in Detva achieves such savings with 35x TS500 collectors.
WHAT COMPLICATIONS CAN YOU EXPECT?
The first complication is usually to obtain the consent of a sufficient number of homeowners living in an apartment building and the decision that you are interested in a solar system. The second obstacle is to obtain the consent of the current heat supplier to install a solar system. We recommend contacting your current heat supplier before contacting our company.
WHAT INFORMATION DO WE NEED FROM YOU?
consumption of hot water (from the invoice)

current method of water heating
method of reheating water after installation of solar collectors
roof drawing, orientation, or. type of roofing
information on whether a room (space) is available for the location of solar technology (storage tanks, expansion tanks, connection to current technology,…)
Complete design of a solar system with an expected annual energy gain and expected savings. As a rule, we prepare several variants for our customers (minimum investment, maximum energy gain or the so-called golden mean – technical / economic optimum), from which the customer can choose according to their abilities. Upon request, we can provide a complete project for the implementation of the solar system, including the calculation of hydraulic conditions, static assessment and other necessary documents. We will install the solar system with the help of one of our contractual partners. Upon agreement, implementation is also possible directly by our company.
WHAT WARRANTIES DO WE OFFER?
We provide a 12-year warranty on our collectors and supporting structures, which is the longest warranty on the European market. We provide a warranty for other components according to the guarantees provided by the suppliers, which is usually 2 or 5 years.
Another type of guarantee you will receive is that the solar system will be from a certified supplier and manufacturer of solar collectors, which has been operating on the market for over 40 years. Our oldest collectors, which have been working to the satisfaction of the owner for over 40 years.
Depending on the size of the solar system, it most often ranges from € 20,000 to € 60,000. In the case of a low-rise apartment building, this amount may be lower and, conversely, when supplying a larger number of buildings, it may reach a higher value. However, with an optimal solar system design, most apartment buildings will fall within the most common range.
WHAT IS THE RETURN OF INVESTMENT?
In this case, there is no clear answer, as even here it depends on several factors. As a rule, however, the return on investment is at the level of 10 years. An example of a very good return under 10 years can be the solar system in an apartment building in Tvrdošín.
CAN I USE A SUBSIDY FOR SOLAR COLLECTORS FROM THE STATE IN THE APARTMENT BUILDING?
Yes, it is possible, but there are some problems. Only an apartment building can receive support from the state if the necessary requirements are met
However, solar systems on apartment buildings are profitable even without state support if properly designed.
The newiest installations
ARE YOU INTERESTED IN DESIGN A SOLAR SYSTEM?
In this case, please fill out this form: